in this corner is little sneak peek of what i'm up to decorating-wise. in this blog feature you'll find a simple little photo of a favourite corner of our home along with some details, sources, and inspiration. a fun feature to sustain me before the big room reveals!
___________________________________________________
in this corner...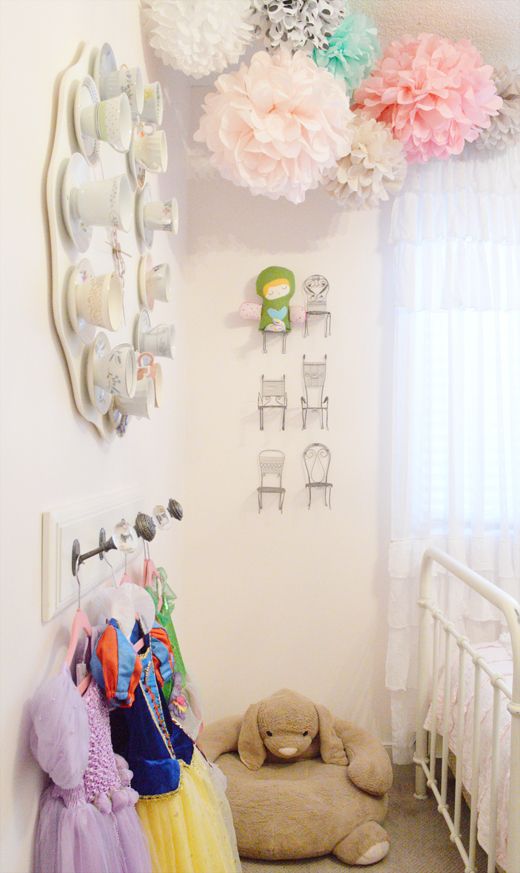 hazel's room.
before moving to our new home, the girls shared a room.
remember this room tour?
the girls are exactly 3 years and one month apart, which is still a perfect age gap to share a room. but when you have 2 girls with 2 separate sleep habits and patterns, one having to make the bus before the sun comes up, and two completely different personalities... sometimes sharing a room doesn't go all that smoothly.
so, luckily, our new home has a room for each of them. a space to express their personalities and to catch some solid zzz's.
hazel's vintage-inspired room is nothing but girly!
i gave the builder beige walls a fresh coat of soft pale pink paint the week we moved in. in this corner, i've hung the tissue poms from their last room, and added a pop of black and white polka dot and mint. below is a collection of little metal chairs that i've been carting around with us country to country, house to house. i believe my mother-in-law purchased them from pottery barn a long, long time ago. they make an adorable accent on the wall, and provide seating to a few of her favourite dolls.
on the adjacent wall hangs a huge tea-cup clock. again, this beautiful thing has been successfully transported chip-free and hiding under beds along the way. what a perfect piece for her old and new room. below the clock hangs a doorknob rack playing host to her favourite princess dresses, costumes and tutus.
and we can't forget her favourite plush bunny chair who often makes his way under the covers with her for a cozy night's sleep.
source list.
paint : behr hush pink
tissue poms :
pomtree
little metal chairs :
pottery barn
(no longer available)
handmade doll :
warmsugar
tea cup clock :
umbra
doorknob rack : hand me down, unknown
plush bunny chair :
RH baby & child
drapes:
target