Spring is in the air. the change of seasons always throws me into a tailspin of projects. and while we have plenty on the go, i'm trying to complete a few of the small little details in rooms that are nearly finished. this week, hank's room had a new light installed and a little whimsy added to his drapes with pom pom trim. i'll call it done, for now... next up is a big boy bed!
we hit our first garage sale of the season and found a wild thing costume for a couple of dollars.
the very last touch added to my little wild thing's room.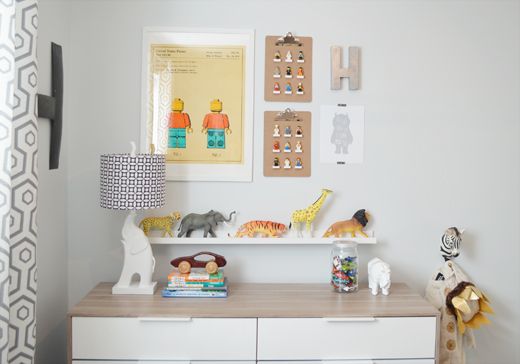 hank's dresser is repurposed from his nursery and is the only storage in his room. the wall above makes me smile. a parade of animals on a photo frame ledge,
a vintage LEGO patent poster
,
handmade LEGO character display clipboards
, a zinc H (the very first detail i bought for his first nursery), and a
wild things printable
. small little touches like a jar of hot wheels, a vintage wooden toy car, and a vintage Dr. Suess book from his great grandma make his room that much more special.
if you reside in canada, i encourage you to check out a local RONA for light fixtures. they have a great selection of stylish lighting for any budget. this orange metal wire fixture was only $21 and cascades an awesome shadow on the ceiling, especially at night.
and, if you're sticking with an industrial look, DIY your own plumbing pipe curtain rod for a mere $15!
(tilt your head, the baskets are crooked... :)
hank's room underwent quite a transformation. one of the main features of his room is the silver maple laminate wood wall we installed to cover a chocolate brown feature wall painted by the previous owners. as a result of my persistent skills in searching the used buy and sell site, we found brand new laminate still in box for less than 70 cents a square foot. enough to complete a feature wall in hank's room and eventually our playroom floor in the basement.
the install was a bit tedious due to gravity and inevitable nap times, but we got it done. starting from the top, and working our way down, we used super strong wood adhesive and an air nailer. it's, without a doubt, there forever. we capped the corners with flooring capping to give it a clean finish.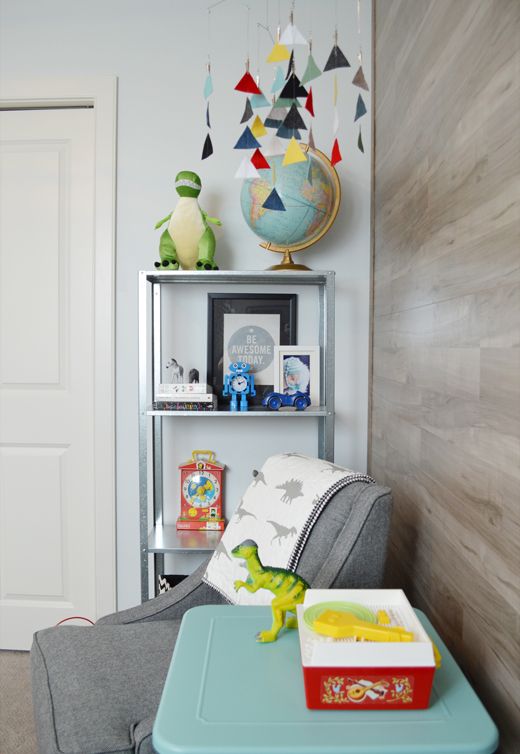 this little corner sees lots of snuggles at bedtime. this $15 galvanized shelf from IKEA is great for small spaces and provides display for some of his (MY) favourite things.
one of the most exciting features of his room, is a
custom 2-storey nook
in his closet. you can read more details on
how we designed hank's nook here
. it'll be transformed into a desk space when he's older. the novelty hasn't yet wore off, i always find him hiding in here playing with his flashlight, stuffies and books.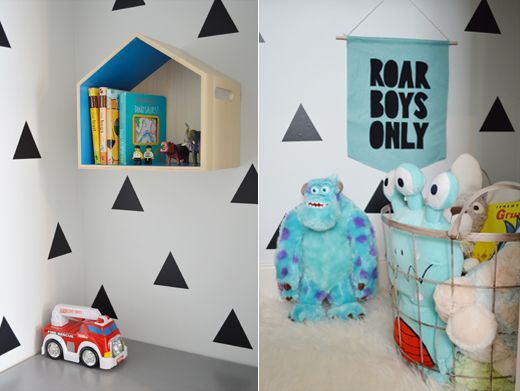 if you have any questions regarding this space, feel free to leave a comment!
thanks for stopping by!