in this corner is little sneak peek of what i'm up to decorating-wise. in this blog feature you'll find a simple little photo of a favourite corner of our home along with some details, sources, and inspiration. a fun feature to sustain me before the big room reveals!
___________________________________________________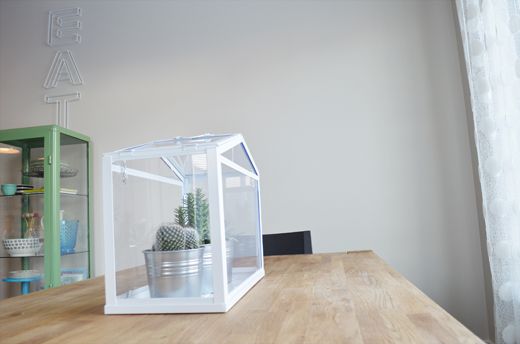 we have a large wall in our dining space, just off our kitchen that needed some love. i had been coveting the
IKEA Fabrikor
since it was available. i adore its colour, simplicity and style. this old school inspired apothecary cabinet isn't limited to the bathroom. it makes the perfect dust-free home to a my favourite colourful cake plates, dessert plates, serving bowls and dishes, with a few adorable recipe books mixed in. we especially love the lock and key that safely stows our pretty dishes away from little hands. i was so excited to retrieve these goodies out of storage, tinker with the display, and probably will again and again...
above the cabinet, a thoughtful friend picked up these metal 3D EAT letters for me on clearance at target. a quick coat of gloss white spray paint and they add a little dimension and height to the vast wall.
my plan for the remainder of the wall
is to design a similar grid of photo frames,
like this pin
, that spans floor to ceiling and a good width extending a little beyond our dining set on each side. i'm thinking of running with the white square
IKEA Ribbas
as they're the most affordable and i can get them in a big quantity. purchasing a dozen frames at once is a wee bit pricey so we've been putting it off each month! the photo frames will host our favourite family photos and instagrams.
i'm so glad to have a splash of colour to this well-used corner of our home. it's also nice to see a little green atop our dining table in this
little metal greenhouse
. where are you Spring?