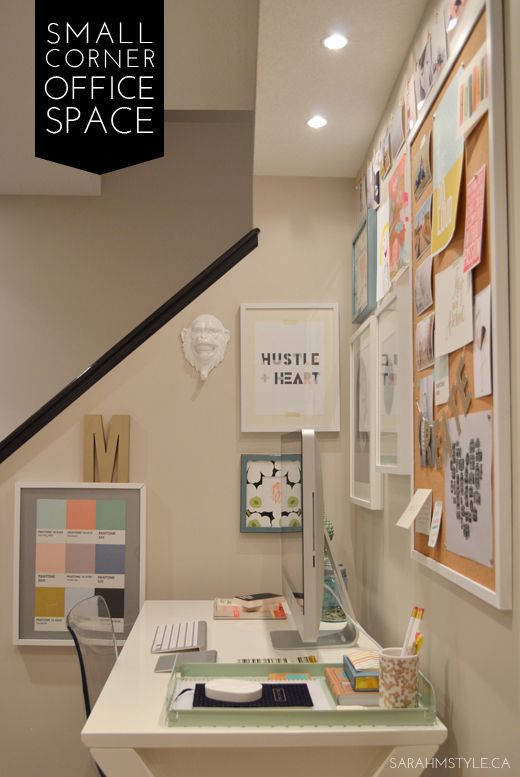 this small corner creative space has become a favourite spot in our home. my office space downsized
by about three-quarters when we moved, but i think the size of the space i have now is perfect. much of what i had before was unused and more for display of things, and the extra square footage didn't really provide any added function.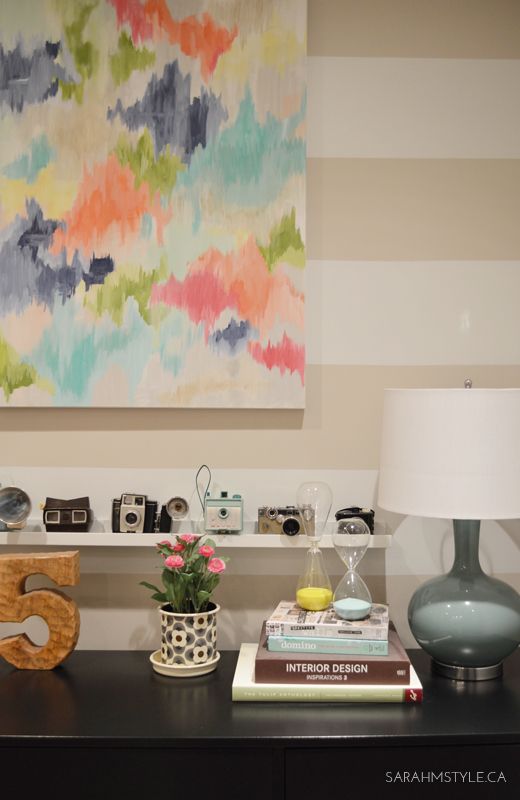 as you walk downstairs to our basement, you're greeted by this colourful niche. my desk space lives around the staircase corner, so what you're seeing in this photo above is right behind me as i work, blog and pin.
the focal point of this space is the painting. a 30 x 40 abstract by moi. back in october, my birthday month, my motto was "just go for it". i went wild and chopped my bangs, started another new class at the gym, and threw caution to the wind, and painted. it felt so good to be unrestrained by my own insecurities and stubbornness. to feel free and confident that i could do anything i set my mind to. i wasn't completely in love with my piece... but i didn't hate it either. and the meaning behind it is SO much greater than the actual canvas itself. i am proud of it.
below the canvas, a portion of my vintage camera collection resides on another IKEA picture ledge. luckily our IKEA sideboard fit perfectly in this niche and is home to a display of pretty little things like books, vases, and faux flowers. the lamps have been in the guest room, master bedroom, storage, and now they finally found a permanent home. i love repurposing things. the sideboard is packed full of my office supplies, paper, and my wireless printer - so handy!
around the corner is my desk space...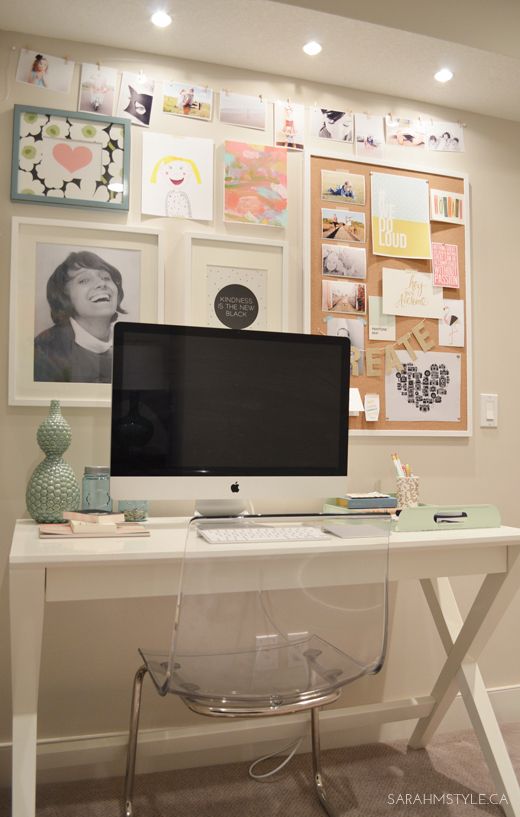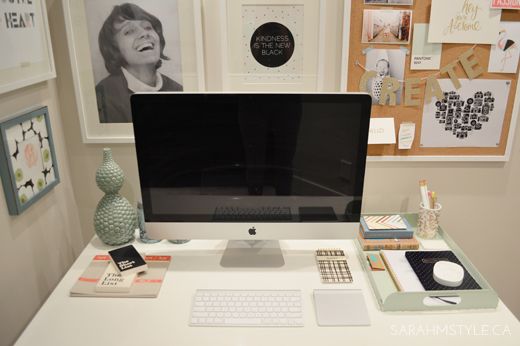 i keep my desktop simple with items i need daily such as calendars, journals and a bazillion list and note pads.
at my left, a smiling chimp hook hosts my big camera. we had an old monogram stored in a moving box and i gave it new life spray painting it gold. below the monogram, i made some quick DIY art by framing
9 of my favourite pantone postcards
right on the grey ribba paper that comes with the frame.
framed is my most favourite print by the talented charisse of
pixel paper hearts
. this girl is a genius. rather than framing it under the matting, i washi'd it right to the mat with
gold dot washi
. the mattings in the turquoise frames were covered with marimeko gift wrap for added punch. the "you got this" art is actually a cute desktop wallpaper from
design love fest
, printed and framed.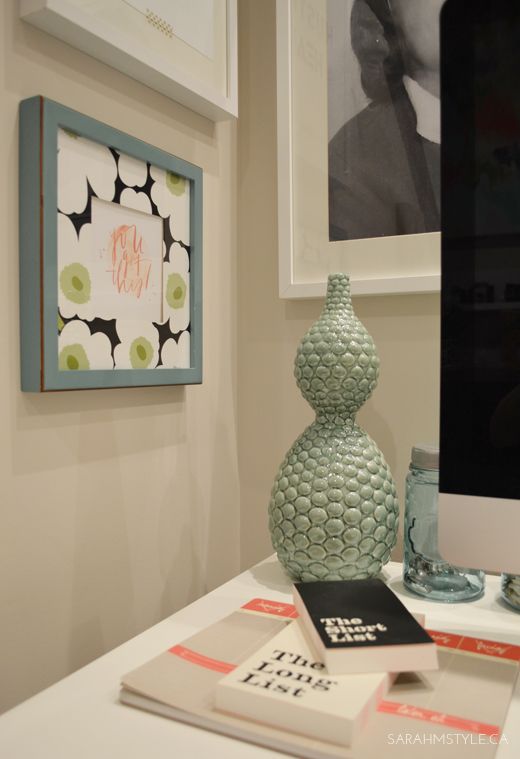 i recently completed my wall gallery and inspiration board splashed with love, inspiration, and motivation. at the very top, a simple strand of 4 x 6 photos i printed on my HP hang with mini clothespins on twine. below is a collage of framed photos and kid art, which has become essential in decorating every room in our home. i love my little portrait by my 6 year old and a colourful canvas done by my 3 year old. in the frames, a DIY heart, a treasured 45+ year old photo of my mother, and another favourite print from
pixel paper hearts
.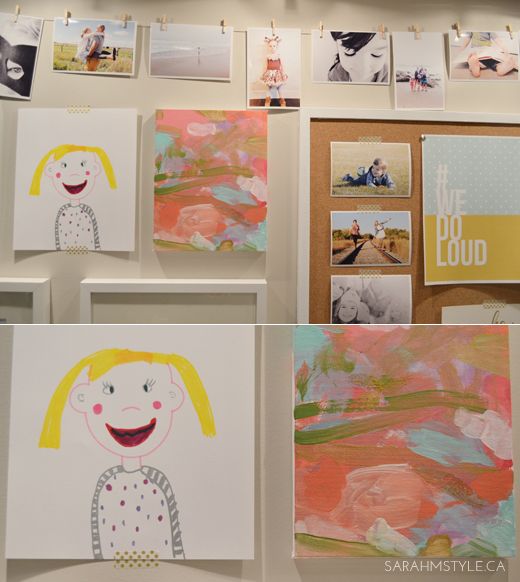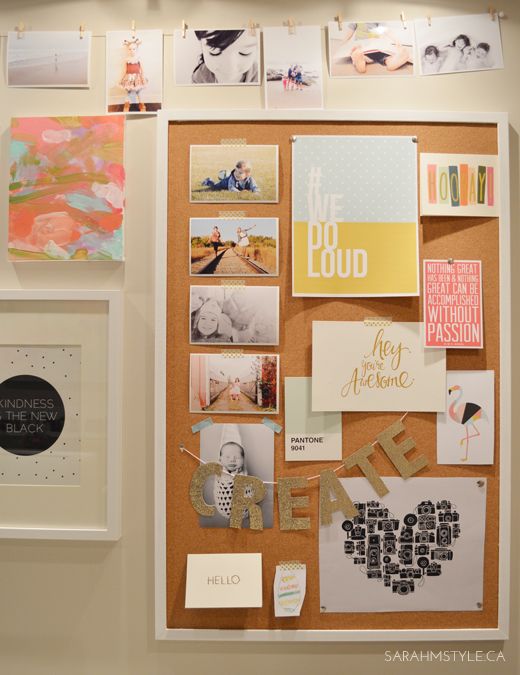 my inspiration board is an $12 2 x 3 foot pinboard from walmart with a spray painted frame. it is home to a collection of photos, notes, art, and a handmade glitter garland.
and... a few of my own prints from my new etsy shop!!
I am truly flooded with inspiration and motivation when i look up from my desk, especially when a creative block comes along.
surrounding yourself with beautiful things that have meaning is essential in creating a space you will feel comfortable and creative in.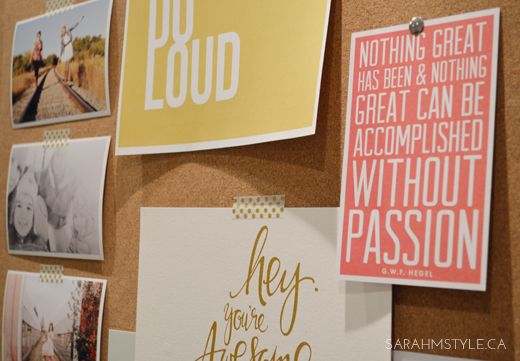 source list.
sideboard: ikea
lamps: homesense
painting: DIY
picture ledge: ikea
cameras: thrifted, etsy
the little things: homesense, indigo, ikea
desk: old, crate and barrel
chair: old, ikea
frames: ikea ribba, pottery barn
smiling chimp: urban barn
pinboard: walmart
tray: ikea
pencil cup: indigo
vase: dwell studio
hustle + heart and kinds is the new black print:
pixel paper hearts
we do loud and flamingo print:
hazel ink
hey. you're awesome print:
justine ma design
you got this framed desktop wallpaper:
design love fest