Another space I'd love to share is
hank's first nursery
in our last home. after having two girls, decorating a baby boy's nursery was so exciting. a lot of time and heart was poured into it.
Looking back on these room tours makes me truly appreciate and acknowledge my passion and talent for decorating spaces on a budget and adding those simple little DIY touches make spaces that much more special. i remind myself not to be critical and over analytical, wondering why i did things one way when i could have done them another, or how i could have done things better... design is a process of evolution and i appreciate that i've come a long way.
after his arrival, we quickly outgrew our home and moved. I don't think we ever did get around to filling those giant frames above his bed... enjoy the tour!
____________________________________________
the moment we found out we were having a boy, i had a vision of what his room would look like.
full of pattern, colour, texture... modern furniture with a little vintage peppered throughout.
baby hank's room has a playful mix of rockets, elephants and all things boy.
many of the elements of his room are handmade or diy'd with love.
his giant frames will be host to large photos of his newborn session.
i'll be adding a few more little details once he arrives. i'd love to find the perfect cozy rug for his floor and add
this quirky pillow
for his corner chair.
a few of my favourite things are...
a handmade paper mobile
handmade personalized art from scrap fabric and charley harper flash cards
a hand stitched wood felt elephant made during my sleepless nights
jumbo poms added to his drapes
a jonathan adler knock off elephant lamp found at home sense
his name. after my husband's great grandfather.
... the list goes on...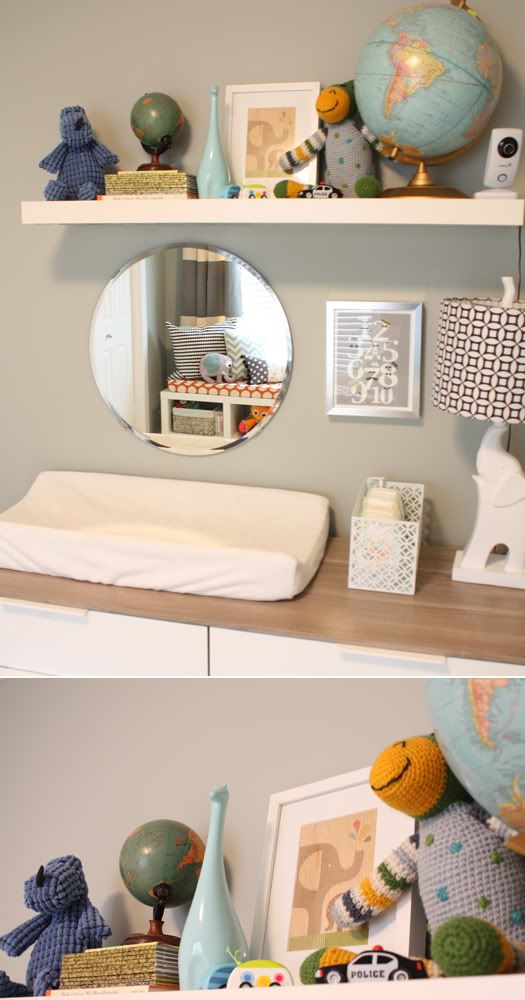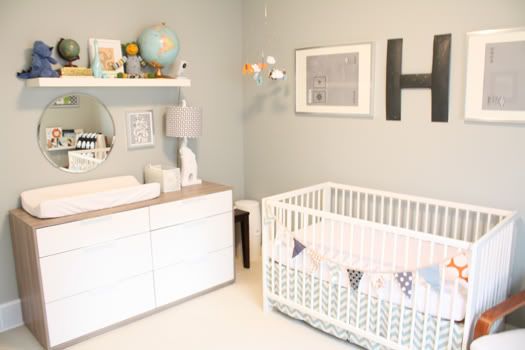 i've provided a source list of most items below.
please leave comments or questions if you have!

gulliver crib {ikea}
nyvoll six drawer dresser in light gray/white {ikea}
window bench {lack shelf with leg kit - ikea}
window bench cushion {3 inch foam camp mattress sliced in half - canadian tire}
window bench cushion cover {diy'd}
poang chair & cushion {ikea}
canvas drapes {restoration baby & child, added jumbo black pom poms}
wool felt elephant {diy'd}
fabric crib bunting {diy'd}
paper rocket, elephant & cloud mobile {diy'd}
personalized HANK print using charley harper flashcards {diy'd}
large H monogram {restoration baby & child}
globe & books on shelf {thrifted}
elephant lamp & shade {homesense}
rocking elephant {restoration baby & child}
paint color: dishwater by general paints